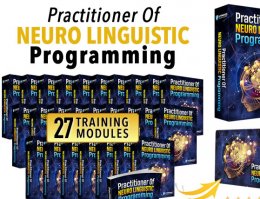 Stage 1: Powerful communication
skills for quick rapport building 
& maximum influence:
In Stage 1 you learn how to install into yourself all the beliefs of the most successful transformational coaches using NLP unconscious mind communication skills. You will come out of this stage with the same perceptions as the most successful transformational coaches in the world. Think of it this way: Stage 1 will "re-set" or "re-configure" your internal belief system (making you ready for the "new and enhanced applications" you will install into you throughout the rest of the training stages). Meaning, right from Stage 1, you will think and believe like a master of NLP. Also: you will learn how to set yourself up for success in ANY area of your life (so you KNOW you're going to "WIN" from the get-go).
You'll also learn how to use NLP principles with your clients to set them up for success -- setting them up to "WIN" with whatever hypnosis or NLP technique you go onto use with them. And last, but not least, in just Stage 1, you will learn how to "read" other people far better than you've ever been able to, and, as an extension of that... you'll be able to communicate with anyone so they completely understand you and have a deeper connection and bond with you than with anybody else. Powerful stuff, indeed! Next comes: